Behind every great research and consulting firm are world class partners and resources who help get the job done. IntelliClear takes this important concept to an entirely new level by building and managing the exclusive IntelliClear Partner Network (IPN). The IPN is made up of both individual consultants and established firms who join with the full-time IntelliClear team to render responsive and professional services in a disciplined team environment. To become a member of the IPN is not an easy process and involves careful screening, reference checking, and rigorous testing. The end result is a network of outstanding individuals and firms that deliver results. Here are a few of the distinguished IPN members ready to go to work today: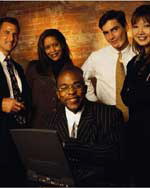 Professional Consultants and Analysts:
IPN consultants include seasoned industry veterans familiar with research design and execution, along with the critical skill of applying research data to develop go-to-market strategy and execution plans. The IPN also includes professional data analysts versed in such programming languages as SPSS and SAS. For more information on the qualifications of IPN consultants and analysts, and/or employment opportunities as a member of the IPN, go to the employment page of the IntelliClear website.

The Dieringer Research Group:
The Dieringer Research Group provides national and international marketing research services to both business-to-consumer and business-to-business clients. For over 30 years, they have been providing comprehensive research consultation and information utilizing the highest level of data gathering and data analysis procedures. They have expertise in multiple methodologies, including telephone, Web, mail, focus groups, large-scale in-depth interviews and hybrid methodologies. Centralized services, a dedicated team of professionals and an intense commitment to detail support their goal of exceeding their clients' ever-increasing expectations. For more information on The DRG, visit their website at www.thedrg.com .

Fieldwork Inc.:
Fieldwork has been a leader in world-class marketing research services and facilities for over 30 years. Fieldwork offers a family of 17 beautiful facilities located in 12 markets coast to coast. Each is superbly equipped to provide state-of-the-art technology, award-winning recruiting, and our famous Fieldwork hospitality. Fieldwork provides large comfortable viewing and interviewing rooms, business support services, restaurant-quality catering and large respondent databases. IntelliClear has a close strategic relationship with Fieldwork Network International, an embedded organization within the Fieldwork Network, that offers extensive market research experience worldwide with around the clock coverage. For more information on Fieldwork visit their website at www.fieldwork.com.

Focus Pointe Global:
Focus Pointe Global has gained a solid reputation for respondent quality through such practices as triple screening every respondent at every Focus Pointe facility world wide. Focus Pointe has locations in Boston, Chicago, Dallas, Los Angeles, Manhattan, North Jersey, Philadelphia, Philadelphia-Suburban, and San Francisco, with a partnership network into such international countries as the UK, France, and Germany. Focus Pointe offers Videoconferencing, Web streaming and Web usability testing labs at all Focus Pointe locations, with broadband access at every seat in all client viewing rooms. For more information on Focus Pointe visit their website at http://www.focuspointe.net/pages/fpg_Home.aspx 

Focus Suites:
Focus Suites offers outstanding focus group facilities and recruiting for the New York city and Philadelphia areas. Focus Suites is well known as a premier recruiter of technology focus group participants, while providing spacious group, viewing, and reception areas for the comfort of clients and participants alike. As a member of the FocusVision network, Focus Suites Focus Suites offers the convenience of standard video conferencing and PC based Web conferencing as well as DSL in all viewing rooms. For more information on Focus Suites visit their website at www.focussuites.com 

Lieberman Research Worldwide:
Lieberman Research Worldwide is one of the leading market research companies in the US in terms of domestic and international work. The International Data Collection Division is an independently operated business unit within LRW. LRW maintains a network of affiliates across the US and in more than 65 countries, with all data collection managed from LRW's headquarters in Los Angeles as well as through on-site monitoring. This approach assembles customized teams from LRW's affiliate network for each project, managed directly by LRW, ensuring higher levels of quality control, flexibility, responsiveness and efficiency. For more information on Lieberman visit their website at www.lrwonline.com 

Luth Research:
Since 1977, Luth Research has consistently offered its clients around the world the kind of forward-thinking market research that moves business ahead. In 1999, leveraging its experience in survey logic, sample integrity, programming, and data collection, Luth Research created SurveySavvy, and SavvyAccess, an online panel and web based market research tool. The online panel, includes over 2.5 Million people in 140 countries, delivering a better than a 30% response rate. Whether your targets are local, national or worldwide, the Luth panel can meet your specific research needs by targeting the scope of the research with laser accuracy, honing in on any of the precise valid panel sub groups. For more information on Luth Research visit their website at www.luthresearch.com .

Plaza Research:
Plaza Research is one of the nation's premiere network of focus group facilities with 14 metro locations in Metro New York, Metro Philadelphia, Atlanta, Dallas, Los Angeles, Chicago, Denver, San Francisco, Houston, Fort Lauderdale, Phoenix, Tampa, San Diego and Las Vegas. Each Plaza Research facility boasts state-of-the-art audio and video recording, teleconferencing and web-casting, luxurious living room set ups, broadband access and impeccable service. For more information on Plaza Research visit their website at www.plazaresearch.com